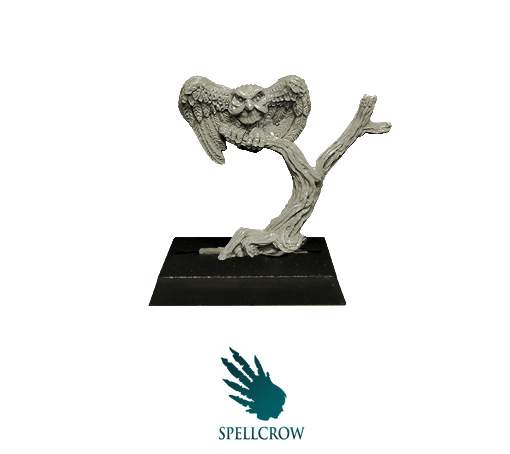 Today we are making something completely new on our blog... new in many dimensions. We have gone, for the first time, for a miniature from other manufacturer than the Only Right One. Since I haven't came across any review as of yet, I decided that this could be a perfect opportunity to uncover for you, what lures inside the small package from Spellcrow.
So, let's open it up...
Dziś zupełna nowość na naszym blogu i to nowość na wielu płaszczyznach. Po raz pierwszy sięgneliśmy po figurkę innego producenta, nisz tego Jedynego Słusznego. Ponieważ nigdzie nie natrafiłem na jakiś opis Sowy, to stwierdziłem, że w związku z tym epokowym wydarzeniem, mam okazję podzielić się ze światem, co kryje w sobie paczka z napisem Spellcrow.
No więc otwieramy...
Well, the and very surprising thing was, that this small package above was not all that I found in the envelope...
Cóż, zaskakującą rzeczą, na sam początek było to, że sowa powyżej to nie wszystko, co znajdowało się w kopercie...
...as you can see, a little goblin (Mad Days 2011 Limited edition, to be precise) was included too. This small little gift really warmed my heart. I have to admit, that in general, every day life consumers in Poland are not being spoiled by retailers, hence this freebie has pretty strong meaning and I appreciate it a lot. I don't know if its normal policy from Spellcrow, but well, who cares :).
...jak widzicie, mały goblin (Limitowana Edycja z Mad Days 2011) też był w środku. Ten mały prezencik faktycznie mnie ujął i bardzo to doceniam. Nie wiem na ile to standardowa polityka Spellcrow, ale mniejsza o to :).
Miniatures themselves surprised me a little bit with level of details. For some reason I didn't have to high expectations from their website's photo. It definitely looks great and seems like a fun miniature to paint. Another thing is, that so far, we only dealt with finecast from GW. We weren't as negative about it as people in average are. But hell... now once we have the comparison to a alternative manufacturer's resin miniature... GW's only right decision was to cease finecast, it was far behind the competition. One small disadvantage is the amount of excessive material to be removed. It is going to make the work a bit harder, but that's about it.
Szczerze mówiąc, po owtorzeniu byłem lekko zaskoczony poziomem szczegółów w figurce. Z jakiegoś powodu nie miałem zbyt wysokich oczekiwań, na podstawie zdjęcia zamieszczonego na stronie. W rzeczywistości sprawia wrażenie naprawdę fajnej miniaturki do pomalowania. Kolejną sprawą jest, że do tej pory mieliśmy do czynienia tylko z żywicą od GW. Nie byliśmy aż tak krytyczni, jak generalnie klienci GW, ale teraz... mając porównanie do żywicy od innego producenta... cóż, GW mógł podjąć tylko jedną słuszną decyzję, czyli skończyć z finecastem. Jedynym minusem sowy jest trochę duża ilość materiału do usunięcia, co odrobinę utrudni prace nad figurką.
We promise to post the results and some feedback after the painting. I hope that the owl will look great among Wood Elves, and goblin... well just somewhere on the shelf :).
Obiecujemy zamieścić efekty pracy i kilka słów więcej o samej figurce po pomalowaniu. Mam nadzieję, że sowa wpasuje się w Wood Elfy, a goblin... gdzieś na półce :).
Dimacheri